Residential respite care and
aged care homes in Greensborough
Trinity Manor Greensborough: A Peaceful and Caring Community
Located in a quiet leafy street in Greensborough, and with 112 beds, permanent staff really get to know residents well and highly value the richness and experience they bring. We also celebrate their passions with an inclusive lifestyle program. We are fully accredited, providing high quality nursing care in a warm and caring atmosphere, making us the leading residential respite care in Greensborough.
Greensborough Gallery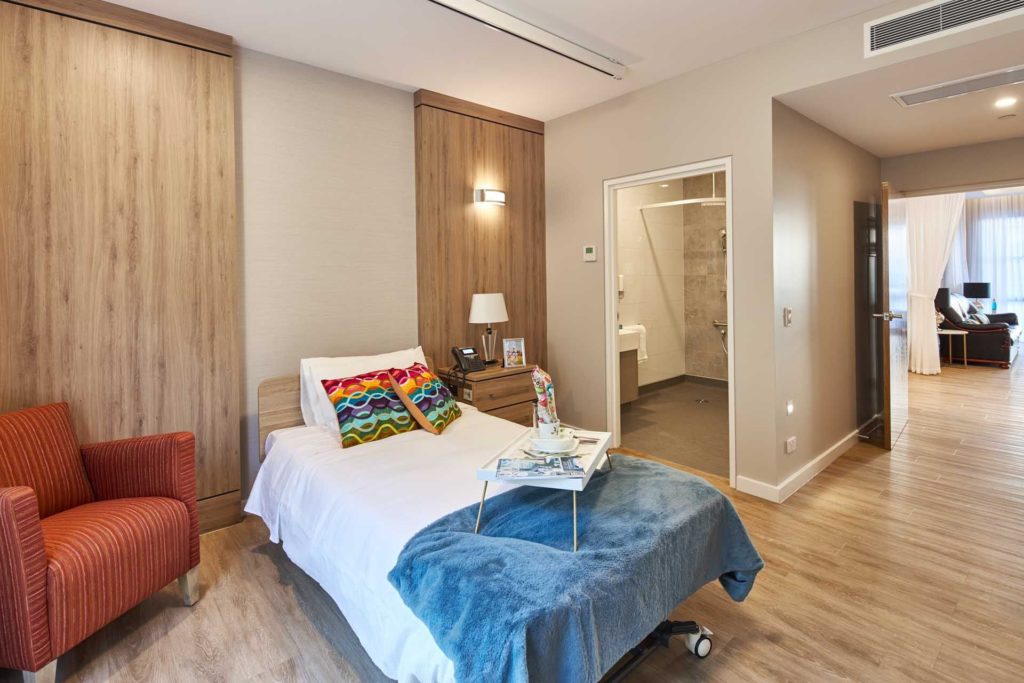 Services, Amenities, and Features
Single and double/companion suites
Ensuites to all rooms
Cooling and heating systems in every room with individual climate control
Telephone connection
TV connection
Internet connection
Fully adjustable high/low beds in all rooms
Medical and allied health services
A registered nurse is on duty 24-hours a day, 7 days a week and is assisted by enrolled nurses and personal care attendants
Visiting GPs, dental, and eye care services
Physiotherapy program
Aromatherapy massage
Podiatry services
Palliative care
Nurse call bell system
Secure garden and courtyard area
Secure access card entry and exit
Lifestyle program
Pet therapy/in-home aquarium
Laundry service – Wash, Dry & Fold
Multiple lounge and dining areas
Delicious meals made on site
Catering to different dietary needs and requests (rotational menu with a variety of nutritious meals)
Walking distance to tram line and shops
Hairdresser salon
Bus for outings
Professional cleaning
Greensborough Trinity Manor Fees & Charges
Fees payable by residents at aged care facilities are regulated by the Commonwealth Government. In broad terms, there are two types of fees that are payable at Trinity Manor:
Fees that contribute to the costs of care and services (known as care fees).
Fees that contribute to the costs of accommodation (known as accommodation payments and accommodation contributions).
Further information can be found at
https://www.myagedcare.gov.au/costs/aged-care-homes-costs-explained
Care Fees
Residents can be asked to pay the following fees (the eligibility fees are confirmed by the Department of Human Services):
A standard resident contribution;
A means tested care fee;
An additional service fee.
Basic Daily Fee
The basic daily fee is 85% of the age pension amount and the fee is indexed every 6 months in line with the age pension.
All elders are required to pay this fee, including full pensioners and part pensioners with low income, unless an elder is approved for financial hardship.
Means tested care fee
This is a Government regulated fee. Please click on the link for further information https://www.myagedcare.gov.au/costs/aged-care-homes-costs-explained/means-tested-care-fee
Additional service fee
Additional service fees apply to places in residential care facilities that have additional service status. These fees are charged on a daily basis.
Trinity Manor has additional service status providing a higher standard of room, meals, other care and services. We pride ourselves on the wide range of additional services offered.
Accommodation Cost
Depending on your income and assets, you may be asked to pay a refundable accommodation contribution or a refundable accommodation deposit payment. This is for your aged care home accommodation only. This is in addition to the:
basic daily fee
means-tested care fee
fees for extra and additional services.
Your income and assets assessment will determine if you will receive assistance with your accommodation costs. Some people will have their accommodation costs paid in full or in part by the Australian Government. Others will need to pay the price agreed to with the aged care home.
Accommodation payments are refundable to the resident on departure. We may deduct any amounts owing to us. Those residents transferring to another aged care facility will have their accommodation payment refunded within 14 days from when notice is given. If a resident passes away, the balance of their accommodation payment will be refunded to the estate within 14 days after we receive a copy of the Grant of Probate or Letters of Administration.
Fee Collection
Residents at Trinity Manor are required to pay their fees and charges monthly in advance. Please discuss fee collection methods with the administration officer prior to admission. For residents who have an unpaid accommodation payment amount, your monthly invoice will include an interest component on the unpaid accommodation payment.

Hardship
Sometimes residents may be eligible for hardship assistance if they cannot afford their fees or accommodation costs due to circumstances beyond their control. An application for hardship can be submitted to the Department of Health using an online form. Please visit the link for more information https://www.humanservices.gov.au/individuals/enablers/asset-hardship-provisions

Please see our fee sheet for further details. Click to view Fee Sheet
CLICK HERE FOR MORE INFORMATION
Please feel free to contact our Admissions manager on ph: +613 9091 5200, or enquiry through the below form.